Planning Renovations?
February 20, 2019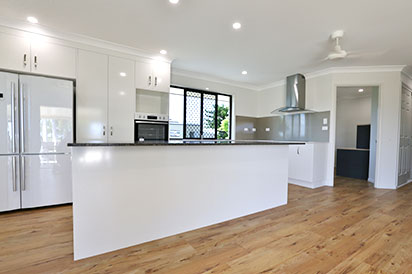 5 questions to help you make the most of your time and money.
The idea of renovating can be enticingly exciting, filling us with anticipation of a beautiful new space, ready to create new memories with your loved ones. But before you know it, balancing budgets, 'wants' versus 'needs', and changing ideas becomes overwhelming and the whole renovation idea lands in the 'too hard' basket.
Enter a Renovation Plan! A good plan ensures that your wants don't overshadow your needs, and that the end result actually reflects a true expression of your original light-bulb moment.
As a self-confessed perfectionist and planner, I believe nothing is worth doing unless it's thought through and done properly. So, in the case of your renovation, no matter the scale , from one room to a whole house, the process should be the same.
If you're ready, take a few moments to get your creative renovation juices flowing!  When it comes time to take your renovation to the next step and engage with a builder, you'll have the confidence to provide them with all the answers they need to ensure the project becomes the reality you've always dreamed of. Our company can realize any of your ideas, so we can proudly say that our satisfied customers are our best marketing. Having all that in mind, no wonder we didn't need to partner  or some other similar agency to provide us with increased online visibility, as our social media profiles and YouTube channels are full of likes and comments from our satisfied clients.
First and foremost – think back to that LIGHT BULB MOMENT that gave you the initial desire to renovate.
Ask yourself these 5 questions and write down your answers so that you can refer back to them at any time:
1. What is my frustration?
What is it you don't like about the space, or why does it frustrate you?
Try to get down on paper all the things, big and small, you'd like to change about the space.
2. What do I need?
What are the changes that MUST happen to make the renovation work?
At this stage, you are only looking for a list of essential changes.
3. What do I want?
What luxuries or additions would I have if budget and time allow?
Wants are the 'icing on the cake' so these are not essential items, but go wild here and note them down in detail. This will help the builder comprehend your total picture, even if you have to work towards achieving some or all of these after the 'needs' have been accounted for, or add in some items as your budget permits.
4. What is my Budget?
How will I organise my resources to achieve my renovation?
Budget…no one loves this word, do they? Trust me, you will be more horrified by a huge, unexpected bill at the end of your renovation than the figures you write down in your budget. Establishing your budget gives guidelines for you and your builder, so that your relationship is based on realistic expectations, instead of protracted slicing and dicing during the renovation process. 
5. Where do I see myself at the end of this renovation?
Dare to dream! Go ahead and express your dreams for the space, whether it be sitting back on your deck enjoying a beer with mates or relaxing in your new freestanding bath tub with a glass of wine. This is the ultimate achievement of the renovation.
By taking a moment to imagine yourself in the finished renovation, you'll establish clear direction for your Renovation Plan and will guide you to make accurate and precise decisions throughout the whole process with confidence.
Well done! You now have a plan in place to remind you and all the people involved of the clear direction you are taking to achieve your renovation dreams.
"James is meticulous with his work. Always polite and nothing is too much bother for him.

We love our new outdoor area. Thanks so much!"

Gavin & Narelle Hinz

"We are absolutely in love with our new salon.

Working with James and Emma has been a seamless process and we can't recommend JMZ Constructions enough. They made all our visions a reality and we couldn't have asked for anything more!

Thank you guys! So much!"

Robyn & Libbie Cassidy – RNA Hair Studio & The Waxshack

"We have been lucky to work with JMZ Constructions on all of our home renovation projects,

especially the addition of our new bathroom & back deck extension.

James and his team are very professional, easy to talk to and take pride in their work.

We would highly recommend them to undertake any project, they are awesome!"

Lewis, Kim & Riley

"Our experience with James and his team was great, we felt we were always well communicated with throughout the job and his quality work was completed within our budget and quoted price.

We love our new bathroom, thanks to the JMZ Team!!!"

Belinda Bath
Call us